Tredyffrin/Easttown Middle School
Unlimited Football & 7th Lacrosse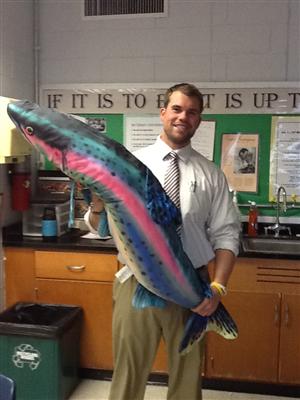 Brook Trout Release Date: Saturday, April 27th at Kerr Park in Downingtown. We will meet at 10:00am to release the brook trout into the East Branch of the Brandywine River. Plan to meet for roughly one hour to release the fish and complete some special release day activities. If you wish to attend, please arrange your own ride.
Success in 7th grade is closely connected to two short sayings:
The first, consisting of ten words, each less than three letters in length, reads as follows:
IF IT IS TO BE, IT IS UP TO ME!
You are responsible for your own success. Take into account what you need to do in order to be successful.
The second consists of one word which is universally applicable:
ASK!
Ask parents. Ask teachers. Ask counselors. Ask peers. The possibilities continue ad infinitum. Find someone who has been through it before and ask them for help or guidance.
If you follow these two guidelines, you will find a lifetime of success. You will develop a stronger work ethic, a mindset of inquiry, and a passion for success.